Messi already wears the 10 of Inter Miami
Miami already has a new idol: Leo Messi. The Argentine paralyzed the American city in a presentation more typical of a movie star, and that the rain did not want to miss it and caused it to be delayed two hours, and which was followed live by thousands of Inter Miami fans. In fact, the strong storm that broke out in Miami led to fears that the presentation would have to be suspended, since the authorities issued an alert for a thunderstorm and both fans and journalists had to wait under cover in their cars.
Lionel Messi, world champion and 7-time Ballon d'Or winner, was presenting with Inter Miami, with whom he has signed for the next three seasons, and was delighted at his welcome: "I want to thank all the people in Miami for this welcome, this affection since I arrived here. I am very excited to be here with you. I come with the usual desire to compete ». In addition, the Argentine wanted to thank the club's effort to hire him: "Thank José, Jorge and David for this recognition, for making everything easier, for making us feel at home."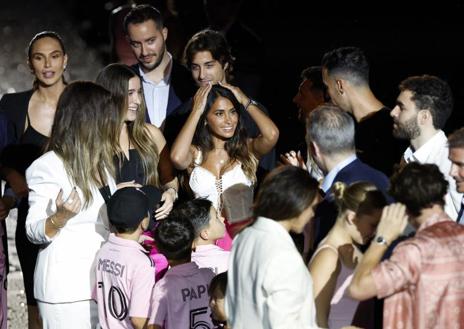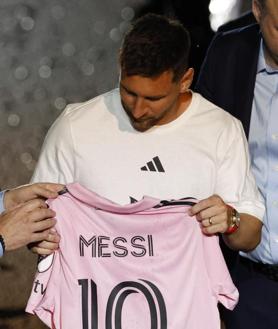 Messi unleashed the madness of the more than 20,000 people who sold out, although the majority went to Inter Miami season ticket holders. In fact, during the previous hours, many fans were seen, especially Argentines residing in Florida, looking for a ticket in the resale to see his idol on his first day with his new team.
«I think that my colleagues and I are going to give everything to build this project and I am very happy to have chosen this city, to have chosen this project. I have no doubt that we are going to have a great time and we are going to experience very nice things. Thank you for this day," added a Messi who did not lose his smile at all times.
Messi did not forget those who are going to be his teammates in his speech: «Thanks to my teammates for the love and welcome. I am very happy to have chosen this country with my family, to have chosen this project. We're going to have a good time."
David Beckham delighted

David Beckham, owner of the team, was delighted and happy at the presentation of the Argentine star. Accompanied by his wife Victoria and two of his children, he acknowledged that it was a very happy day for him and for Inter Miami. "Please forgive me for being a bit emotional today. It is a dream come true to welcome Lionel Messi to Inter Miami."
In addition, the former England captain addressed the Argentine directly: «Leo, we are very proud that you have chosen us as your new home. Leo, Antonella, Thiago, Mateo and Ciro, welcome to the family."
Busquets, very happy

Minutes before the presentation of Leo Messi it was the turn of Sergio Busquets. The midfielder, who is changing clubs for the first time in his career, posed in Inter Miami's pink jersey at the opening of the gala and delivered his first words as a player for the MLS team.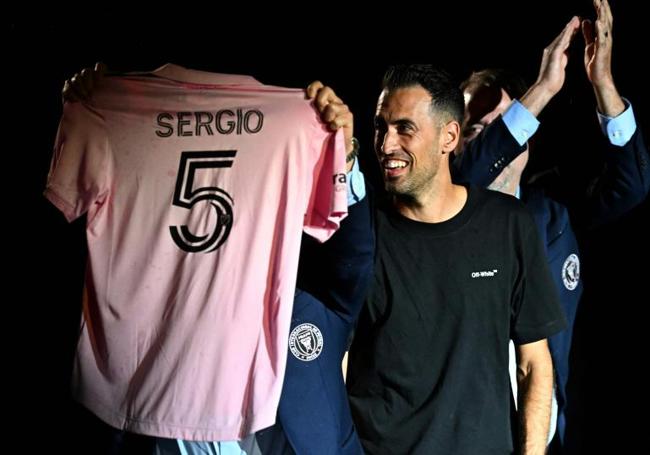 «Thank you for coming, I am very happy to be here in Miami. For me it is a pleasure to be part of Inter Miami. I want to thank everyone who has made this possible. I really want to start training and playing with my new teammates", the former Barcelona captain stated in his short speech.
His first game could be next Friday, July 21, against Cruz Azul in LIGA MX, in what will be the opening match of the Leagues Cup, a new North American soccer competition for which MLS teams and LIGA MX will put their respective league seasons on hold from July 21 to August 19 to determine the three teams that will qualify for the 2024 edition of the Concacaf Champions Cup
.