"The judges made sure there were no colored underpants under the white shorts." Fashion Story at Wimbledon – California Classic – Blogs
In addition to the sporting tradition at Wimbledon, there is also a long tradition of style. Therefore, the tournament not only writes the names of the champions in history, but also dictates its own rules to fashion – including outside the grass courts of South London.
We made this material in collaboration with K-Swiss, a Californian tennis shoe brand with over 50 years of history and rich heritage. The very first model of the brand's sneakers – K-Swiss Classic – debuted in 1966 at Wimbledon.
And now – we plunge into the world of white clothes and mini-skirts.
Wimbledon has a strict dress code. The judges even made sure that there were no colored shorts under the white shorts.
The rules of the Grand Slam tournaments state the restrictions simply: "At Wimbledon, players must be dressed almost entirely in white." The degree of this "almost" is not specified or prescribed.
But the tournament itself has very detailed rules, consisting of 10 points.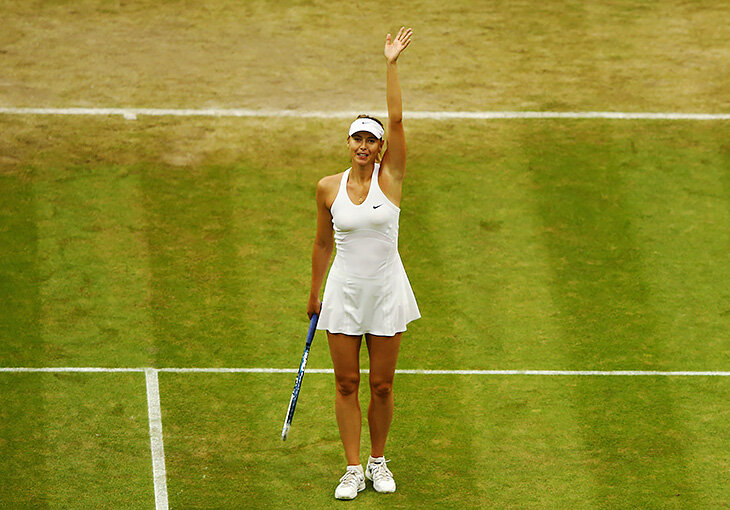 1. Participants must be dressed in proper tennis uniform from the moment they appear in the vicinity of the court.
2. Shades of white and cream are not considered white.
3. No blocking of color is allowed – the only exception is for women who from this year on can wear dark undershorts as long as they are no longer than the skirt or main shorts. Colored stripes are allowed around the collar and sleeve edge, as long as they are not wider than 1 cm.
4. The color inside the patterns will be considered a color block, and therefore cannot violate the 1 cm rule. Logos of different materials and patterns are not allowed.
5. The back of T-shirts, dresses, jackets and sweaters must be completely white.
6. On shorts, skirts, suit pants, one stripe of color is allowed along the outer seam, not wider than 1 cm.
7. On caps (including the bottom of the visor), headbands, bandanas, wristlets and socks, one stripe of color no wider than 1 cm is allowed.
8. Shoes must be almost entirely white, including the soles. Large manufacturer logos are not welcome. Grass shoes must comply with the Grand Slam rules. In particular, sneakers with studded toes and heels are not allowed.
9. Any underwear that is visible during the game (including as a result of the player's sweating) must also be completely white with the exception of one stripe of color no wider than 1 cm. The only exception is for women, who from this year can wear dark undershorts, as long as they are no longer than the skirt or main shorts.
10. Medical tapes should also be white. Color is allowed only if absolutely necessary.
The dress code hasn't always been so rigid, and Wimbledon's history has been full of flamboyant outfits that not only reflect the evolution of fashion, but show how tennis has evolved into one of the world's most popular professional sports.
Women had scandals because of bare wrists, but then at Wimbledon they played in lace underwear and without a bra
The first Wimbledon was held in 1877, but only men played there. Women first appeared on the courts of the All England Club in 1884. At first, they looked like people of that era should.
The first women's Wimbledon was won by Maud Watson, who defeated her sister Lillian in the final. She was in a white dress to the ground and a hat.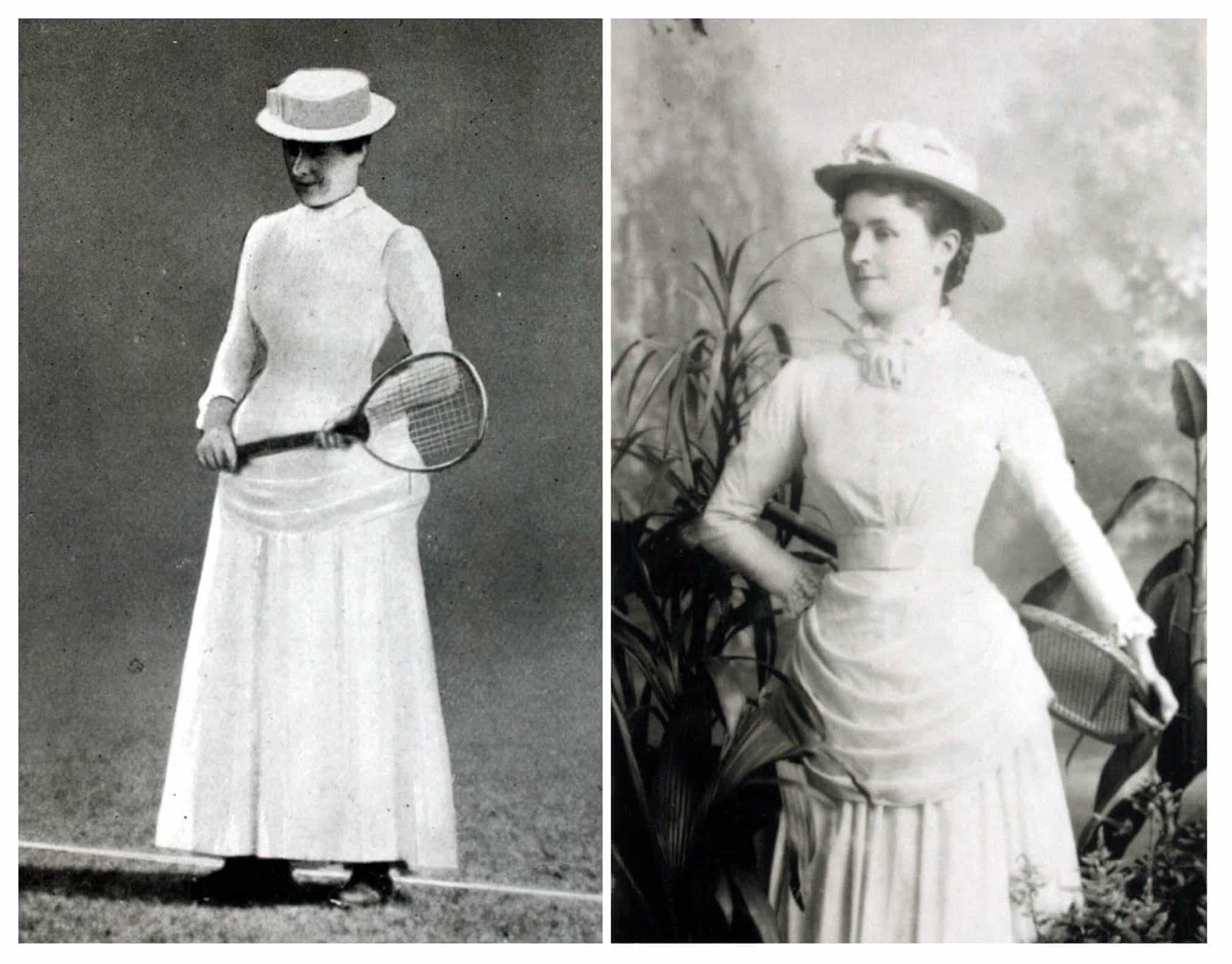 In 1890, 15-year-old Lottie Dod became the champion – and she was allowed to play in a dress shorter, to the middle of her ankle. All due to the fact that she was still a schoolgirl.
In 1905, the first fashion scandal occurred at Wimbledon, when the American May Sutton Bundy rolled up the sleeves of her dress and thus showed the audience her bare wrists. Her argument was simple – the sleeves were "too long and hot."
"All tennis players should kneel before Suzanne Lenglen, because she freed them from the tyranny of corsets," is how 19-time Wimbledon champion Elizabeth Ryan described the achievements of the great Frenchwoman. Lenglen collaborated with fashion designer Jean Patou, who designed her a new look: a pleated skirt just below the knees, a sleeveless blouse, a light sweater. Therefore, she was not constrained by an abundance of fabric, a petticoat or a corset. And instead of a hat, she wore a bandage, which became her trademark.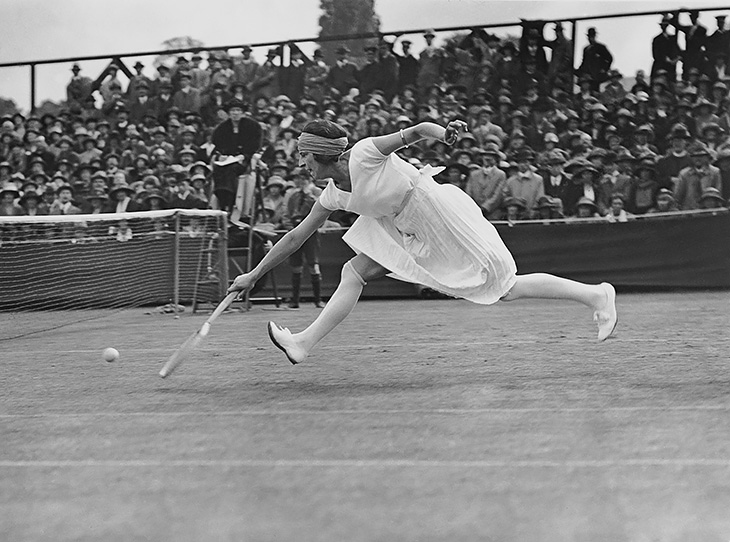 Shorts became the next step in the search for functionality. For example, Alice Marble, the 1939 champion, played in them. And after the Second World War at Wimbledon, the era of Ted Tinling, a fashion designer who developed the most daring tennis images, began. In 1947 and 1948 he designed dresses in color for Joy Gannon and Betty Hilton. In response to the latter, Wimbledon introduced a white dress code, which is still in effect.
In 1949, Gussie Moran made a splash, who at first wanted a dress with sleeves of different colors, but in the end she limited herself to a tight-fitting blouse and a very short skirt, under which she wore lingerie with lace. After a party where the American girl lit up the outfit, she became Gorgeous Gussie forever – when the New York Times ran with the headline "Gorgeous Gussie's lacy panties are the main attraction of the Wimbledon courts."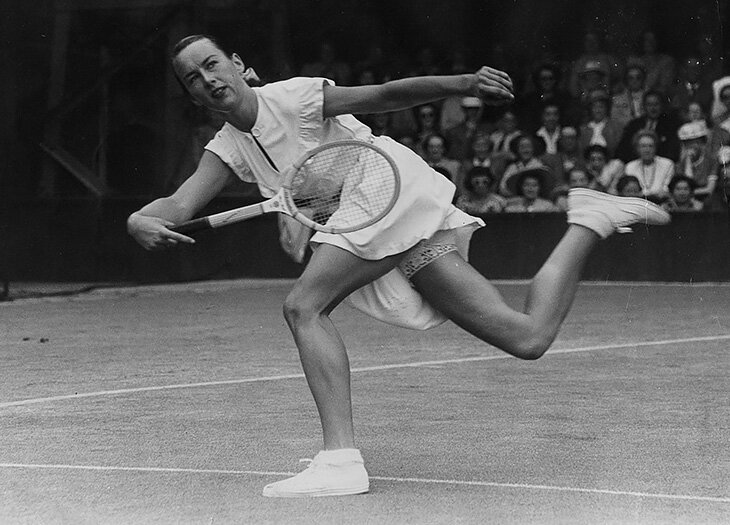 They say that she was embarrassed to go to the first match in lace, but by the second she plucked up courage. As a result, photographers lay on the ground to get a better angle, and Moran left the court after the victory, covering her face with her hands. And as a result, her panties were discussed even in the British Parliament.
After that, Tinling further developed:
• an ostrich feather skirt for Lea Pericoli (Wimbledon, 1955);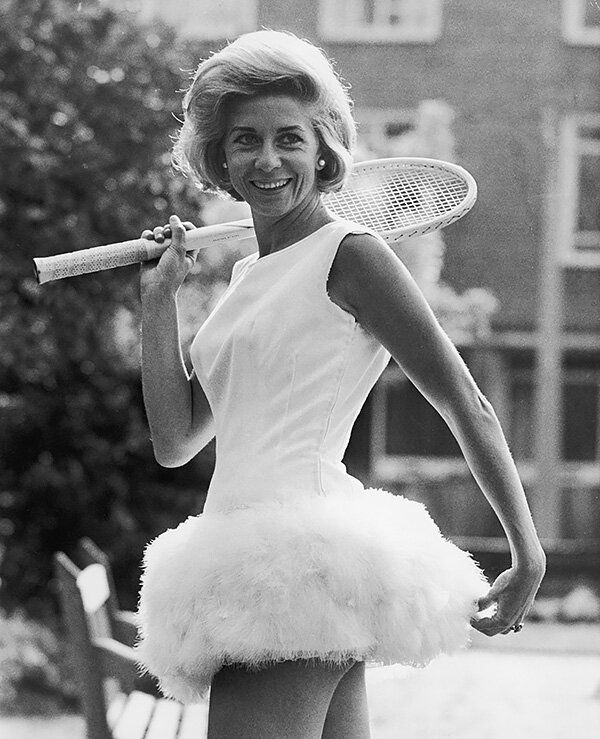 • golden lurex shorts for Carol Fageros (Wimbledon 1958);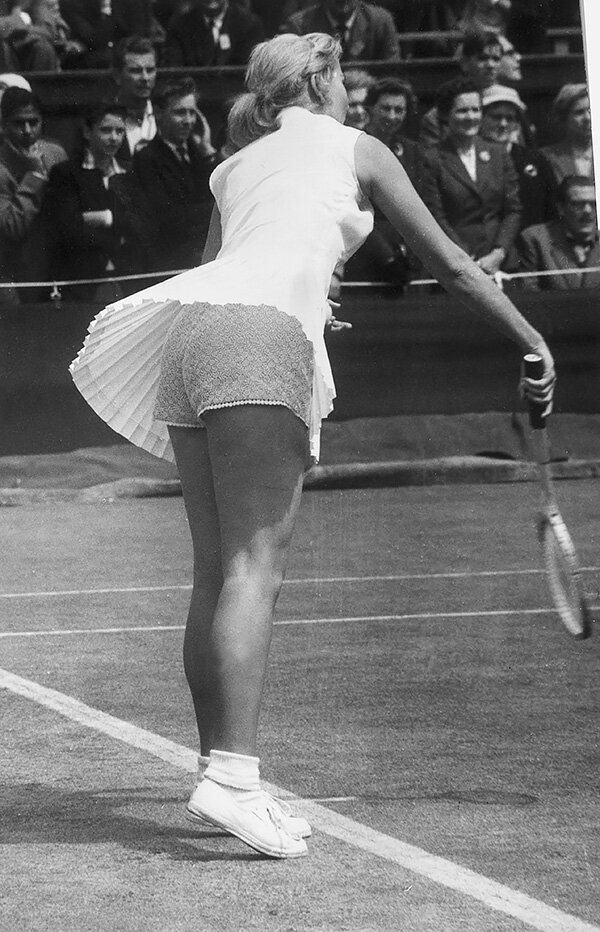 • panties with colored patterns for Maria Bueno (Wimbledon -1962).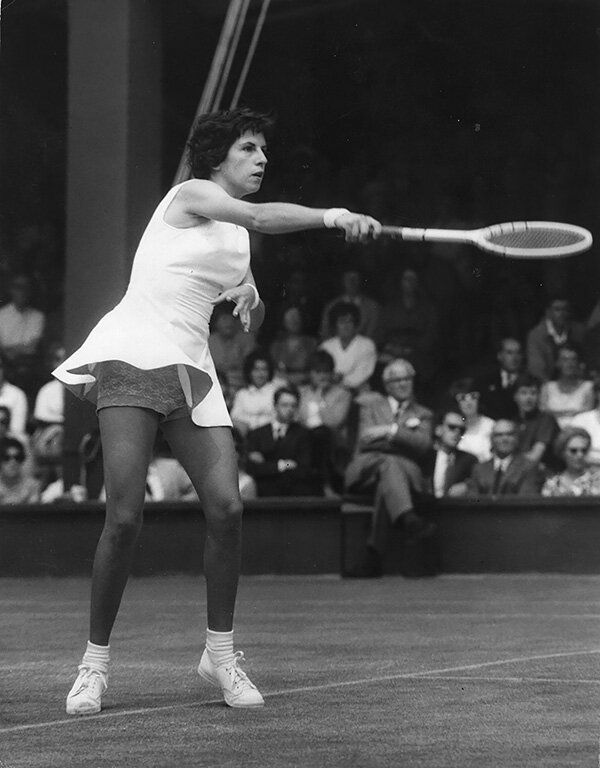 After the stars of Tinling, 18-year-old American Linda Siegel fired, striking everyone in one match with a deep neckline of a dress that she wore without a bra. In the first round, she lost to the top tennis player of the generation, Billie Jean King, who joked after the match: "Great dress. If she likes it, then great. The audience obviously liked it. If nature has endowed you, why not show it.
In 1985, something from aerobics penetrated tennis – in the form of Anne White's elastane jumpsuit. She played Pam Shriver in the first round, and the match went on for two days. On the second, she already came out not in overalls, but in a regular skirt. Because neither the judges nor the opponent liked the first outfit.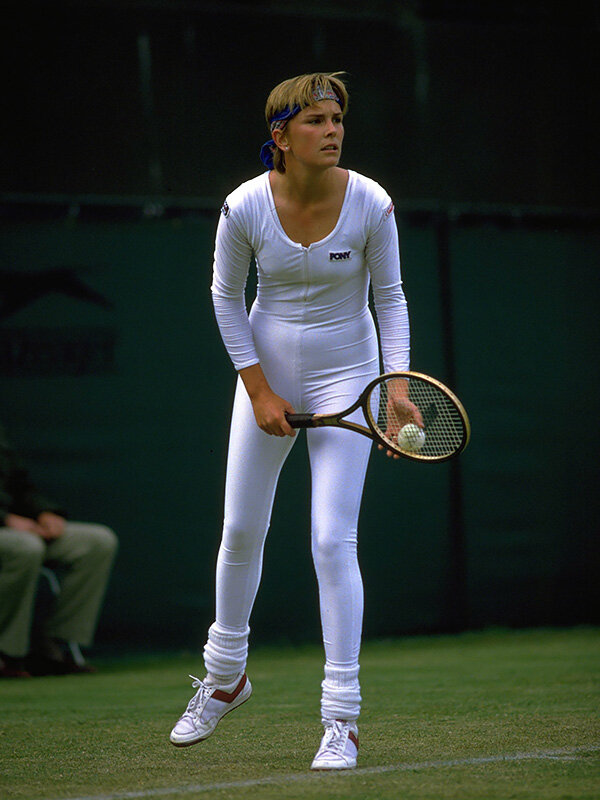 "We have been waiting for the match for four days. We finally leave at 7:20 pm. You're already nervous because it's the first match. And suddenly you are ready to serve and suddenly you hear whistling and screaming. Then I turned around and saw this thing, "Shriver was indignant.
White explained that she wore the jumpsuit because it was functional, aerodynamic – and warm: "At home I train in leggings – doing aerobics, running, training. And the main task of this outfit is to keep your feet warm."
After the defeat, she was angry that she was not allowed to play in a jumpsuit: "But this is their tournament, and I don't want to somehow hurt their feelings. I don't want people to drop strawberries and cream because of me." But she was supported by the same Ted Tinling: "Wonderful, the next stage of evolution, it is absolutely appropriate."
But the next stage of evolution was just sports dresses, tops and skirts. Although even here the players managed to stand out – like, for example, Anna Kournikova, who elevated the concept of "mini" to an absolute. By the way, in 2005 Kournikova became the ambassador of K-Swiss Classic.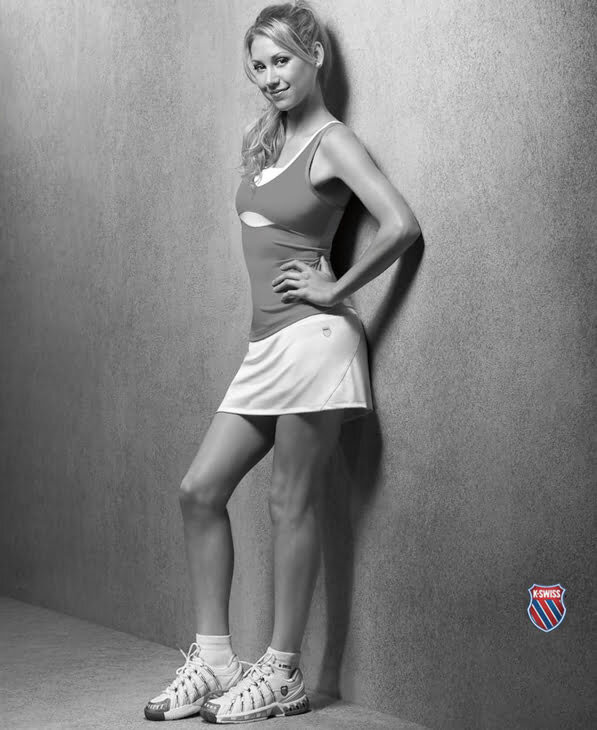 In general, now tennis players express themselves through the outfits in which they go to the court, and not play. Remember Serena Williams' jackets and trench coats?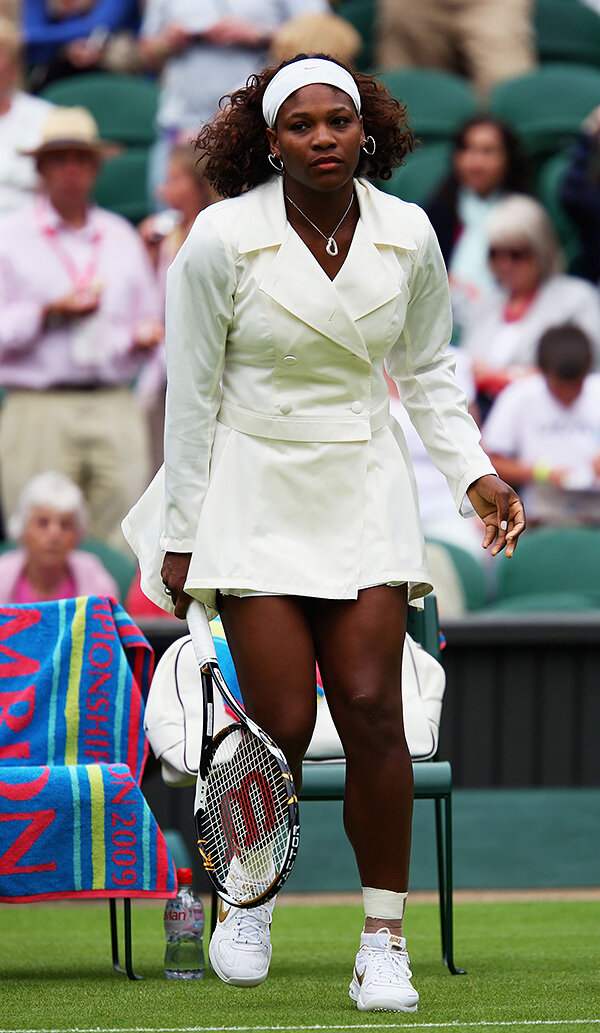 And Maria Sharapova in 2008 played, probably, in the most experimental outfit in her career – shorts and a blouse in the spirit of a tuxedo.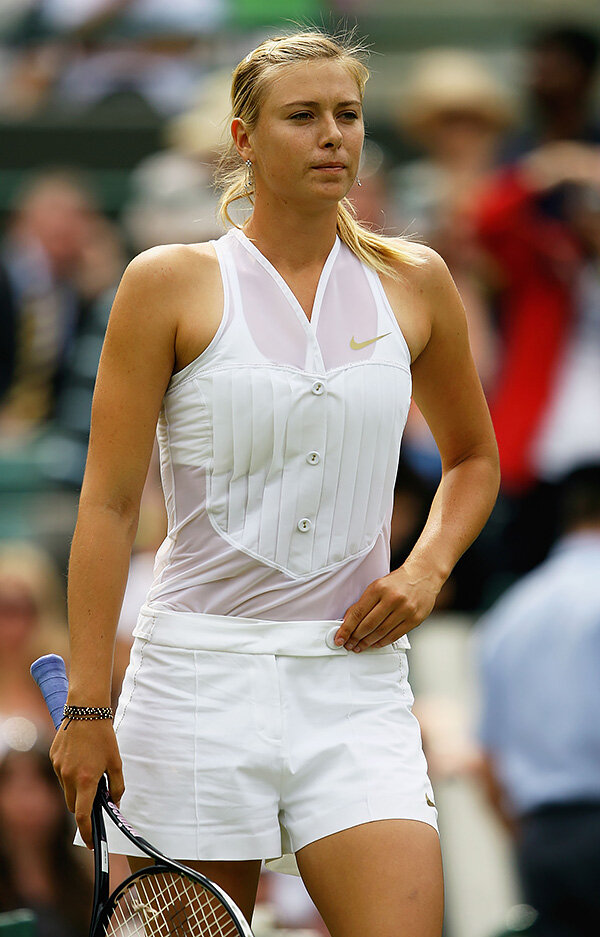 True, she lost already in the second round – to Alla Kudryavtseva, who later said: "It was very nice to beat Maria. Why? I didn't like her outfit."
And the main opportunity to add brightness on the court for a while was colored underwear. Like Tatyana Golovin in 2007.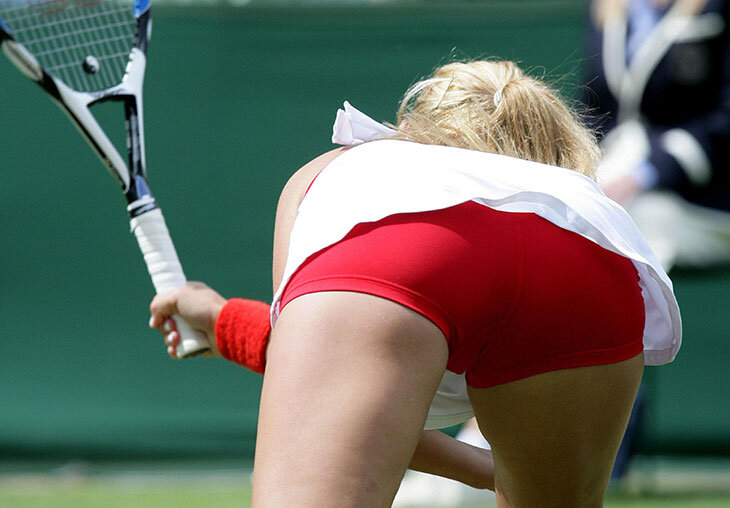 Or Serena Williams in 2012.
True, shortly after that, such shorts were banned. But from this year they are allowed again – the organizers listened to tennis players who are uncomfortable playing in white. Especially during menstruation.
Menswear used to have more color, but now even colored soles are banned. But you can wear jackets, cardigans and trousers
For men, fashion evolution is less eventful, but still interesting.
For starters, Wimbledon influenced the tennis shoe standard. In the 1960s, a tennis boom began in the United States – thanks to the mass construction of courts and advertising of a healthy lifestyle, this sport became as accessible as possible. And the only option for tennis shoes was just the "Wimbledon version" – elegant low shoes in white.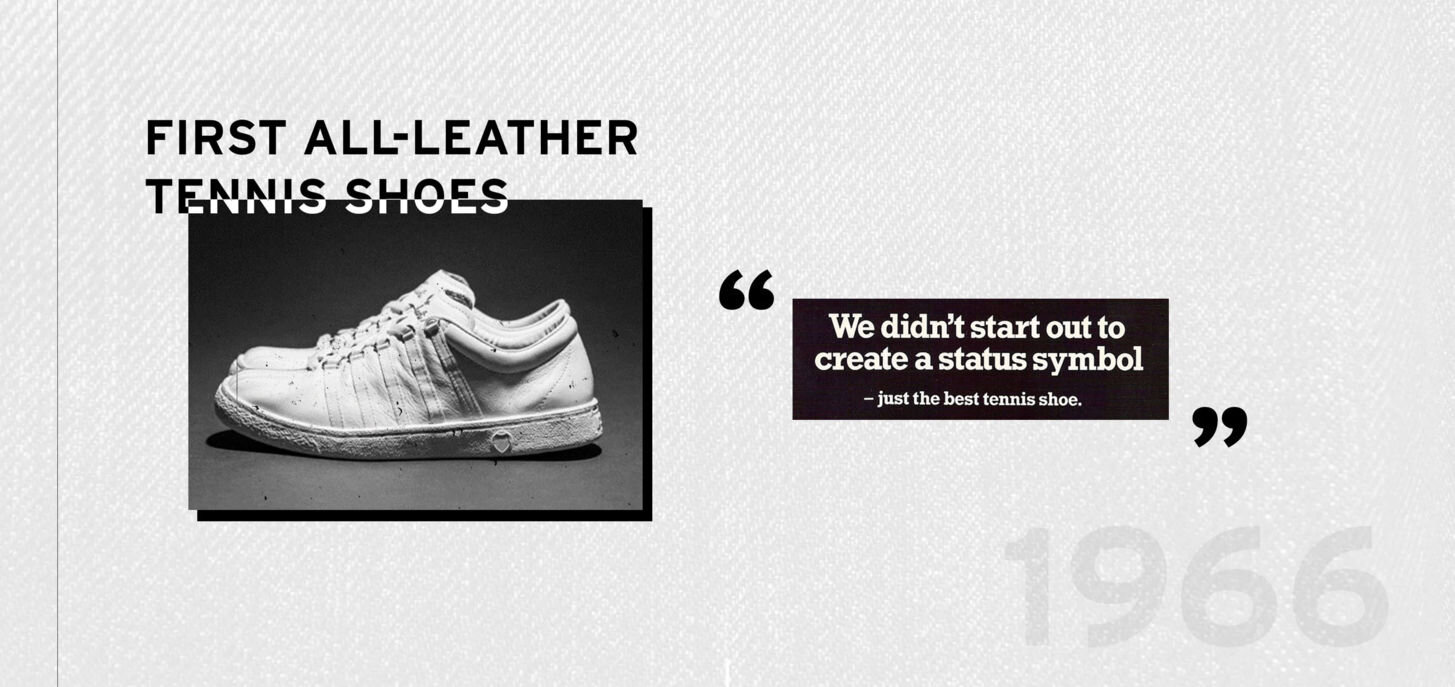 The first to introduce tennis shoes made entirely of leather were the Swiss brothers Arthur and Ernie Brunner, who moved to California and created the K-Swiss brand there. In their native Alps, designers raced downhill skis, so they transferred lateral support, revolutionary for their time, to tennis shoes. Introduced in 1966, the K-Swiss Classic debuted immediately at Wimbledon and is still the standard for off-court tennis shoes.
You can buy the current variation of the classic Classic GT at the Nonconform website, the Lamoda online store and the NCF offline store.

***
In terms of clothing, the men initially played in trousers, shirts and jumpers. By the beginning of the 20th century, the first short-sleeved shirts began to appear on the Wimbledon courts. In 1947, American Jack Kramer became the first man to win Wimbledon in shorts.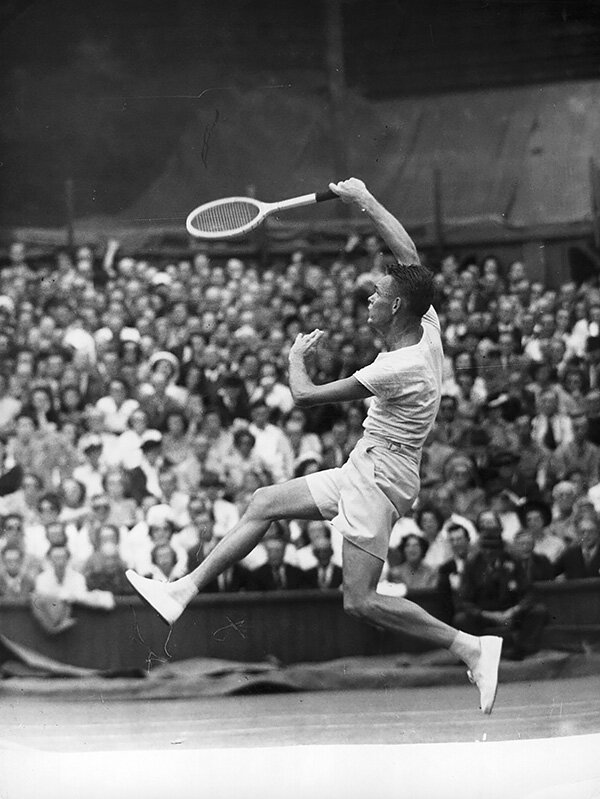 By that time, tennis shorts had existed for more than 15 years – and they were also invented by a Briton. Back in 1929, Bunny Austin withdrew from a Davis Cup match due to cramps in the fifth set, and after that he was sure that the long flannel trousers that everyone then played were to blame. Austin considered that the legs in them become too wet – and two years later he simply cut off the trousers.
The next important innovator was Bjorn Borg, for whom they came up with special grass sneakers. Everyone plays them now. The Swede has won five Wimbledon titles wearing the same jersey all the time. Such was his superstition. By the way, now he would not be allowed to play in such a T-shirt.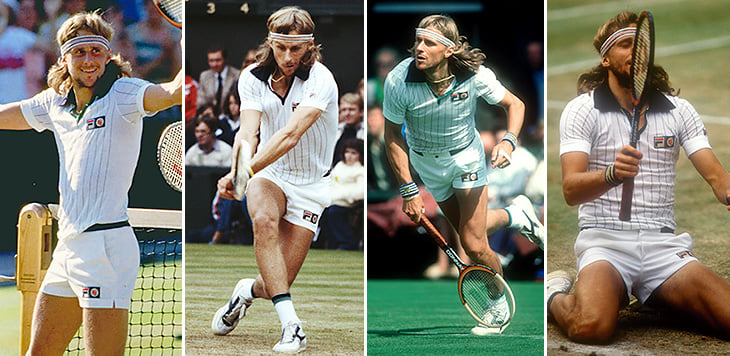 From the 1970s until the late 1990s, there was a lot more color at Wimbledon in general. Nevertheless, Andre Agassi did not want to go to London for the first years of his career – because he was a punk at heart and opposed the dress code.
"Wimbledon referees seem to take a perverse and arrogant pleasure in telling the players what they can and cannot do. I despise rules—especially unfounded ones. Why do I have to wear white? I don't feel like it. Why is it so important to them what I wear? he wrote in his autobiography about his first trip to Wimbledon in 1987.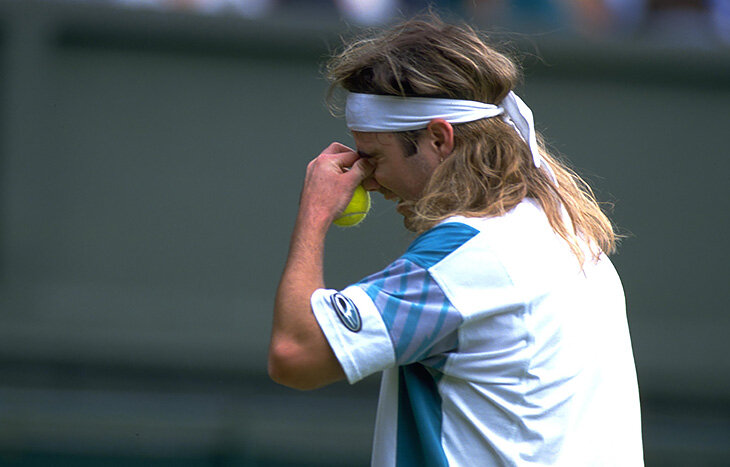 After that, he returned to the tournament only in 1991, and in 1992 he won it – in a perfectly white uniform.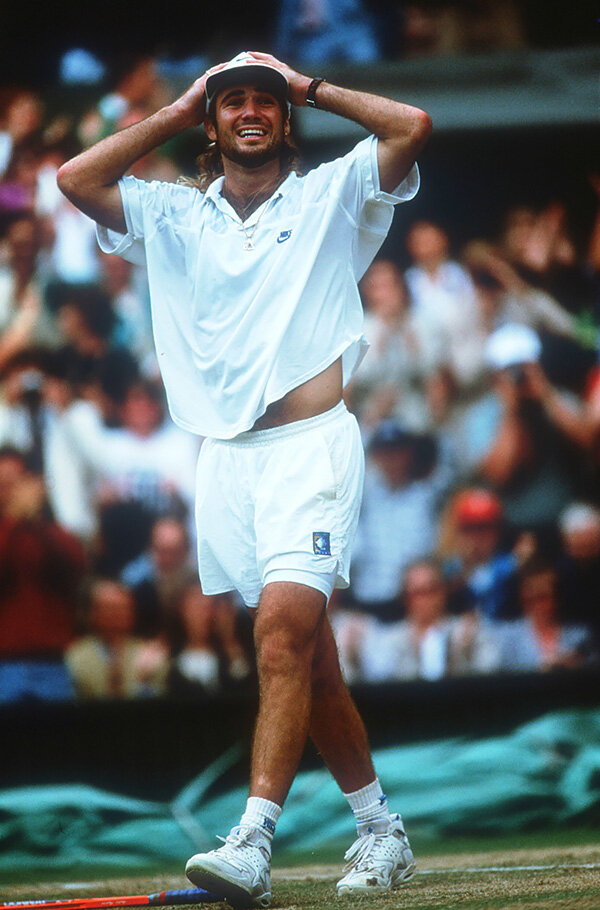 Roger Federer is now the most decorated Wimbledon champion with eight titles. And at the end of the 2000s, he also owned the most powerful fashion statements in men's tournaments.
In 2006, it was a cream jacket in which he went to the court.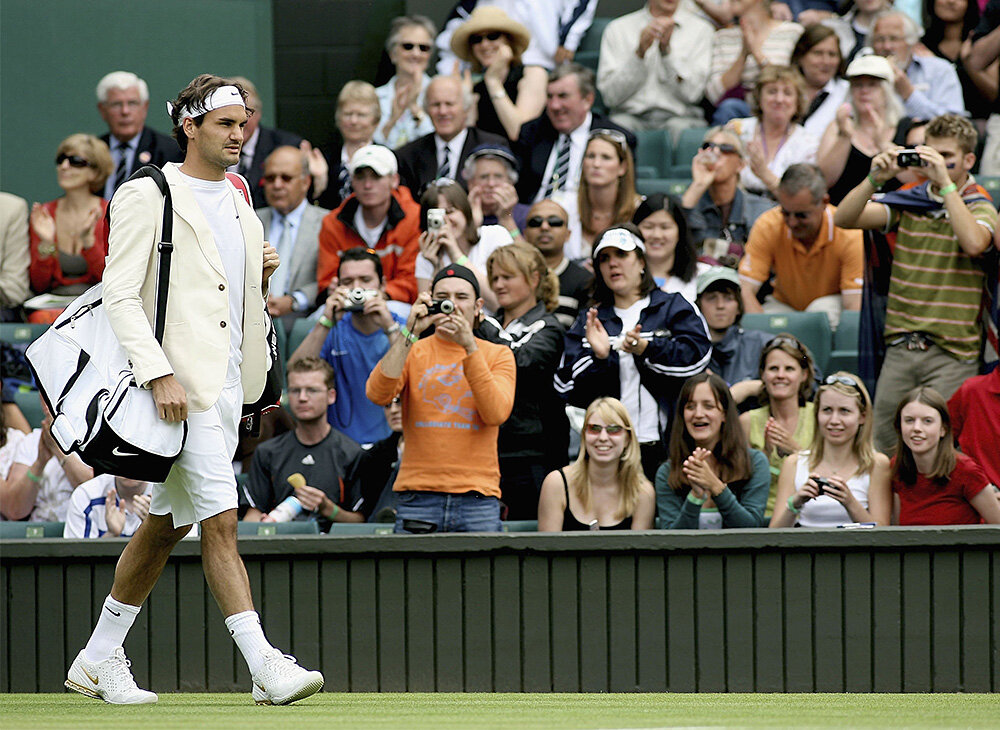 A year later, he changed it to just white.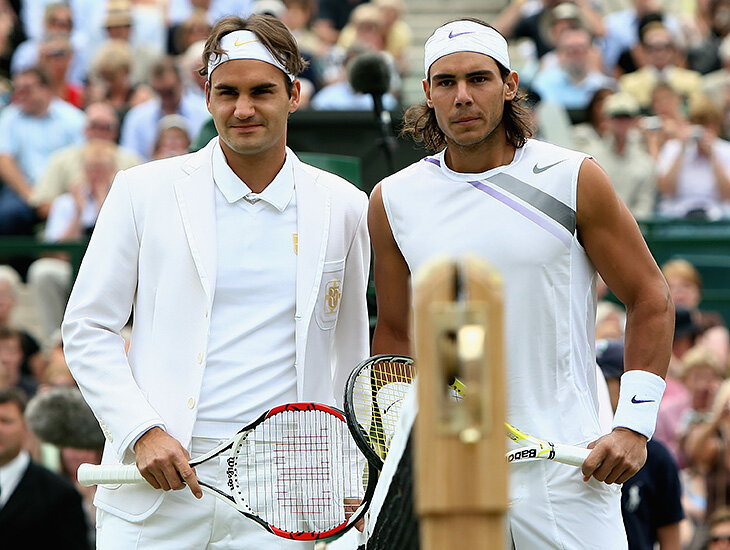 In 2008, in a knitted cardigan, he lost the legendary final to Rafael Nadal.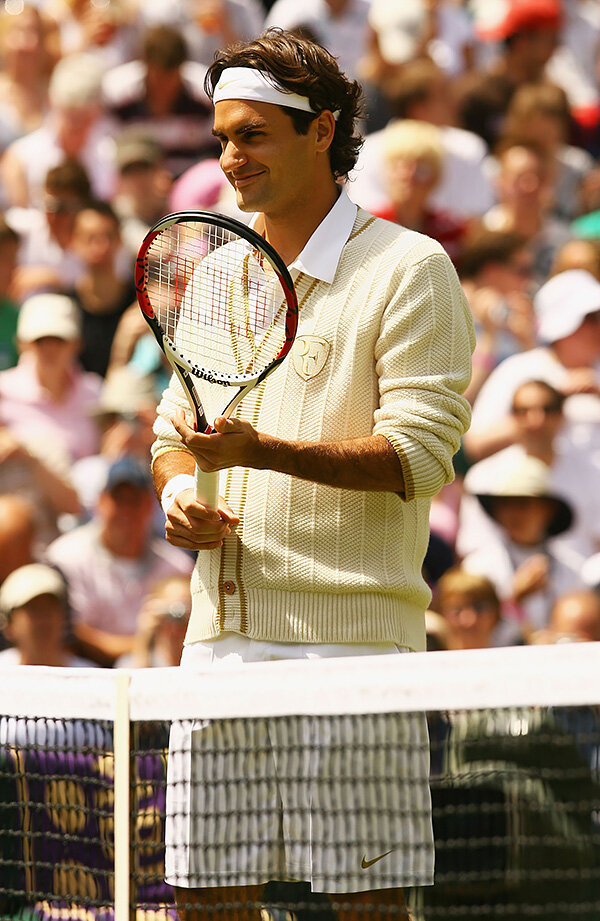 And in 2009, he went out with a bag in gold, in a trench coat and trousers. When he won the title and broke the record for winning Grand Slams, he put his pants back on – albeit backwards. But even Federer can't do everything at Wimbledon – in 2013, the organizers asked him not to wear orange-soled sneakers. And now it is written in all the rules that it should be exclusively white for everyone.
Well, white sneakers are a timeless tennis classic.

Photo: Gettyimages.ru/Clive Brunskill, Al Bello, George W. Hales/Fox Photos, Bob Martin, John Russell, Dennis Grombkowski, Douglas Miller/Keystone, Reg Birkett/Keystone, Edward Miller/Keystone, Hulton Archive
Advertising. LLC "ORBIKO STYLE". erid: Kra23eyqF