18:58
Netflix has condensed their 2022 movie preview trailer for a Super Bowl ad that just premiered – a rather bizarre assemblage of clips, and actors breaking the fourth wall. Stuart Heritage wrote about how frightening it all is here:
18:54
Arnie and Salma go electric
Arnold Schwarzenegger had been teasing this ad last month on social media, sharing a fake movie poster for Zeus, something that just about no one actually fell for. As most predicted, it was to hype up his Super Bowl ad, where he plays the thunder god alongside Salma Hayek as his wife Hera. It's to hawk BMW's new electric model. Arnie has a history of electric car support and once converted a Mercedes into an electric car, raising its value to $1m.
18:49
Moon Knight
It's looking like a rather dark year for Marvel, after tonight's horror-tinged Doctor Strange 2 tease and now this, a second look at their new Disney+ series, Moon Knight, recently described as "brutal" by Marvel boss Kevin Feige. Oscar Isaac's British accent remains … a decision but there's plenty to get excited about here, including a grizzled Ethan Hawke and some stunning on-location imagery.
Updated

18:46
Ewan McGregor meditates on stuff for Expedia
For Expedia, Ewan McGregor muses on the futility of all this stuff we buy – thinner TVs, smarter smartphones, lighter light beers – when we could be traveling (assuming there's not another Covid surge). "Do you think any of us will look back on our lives and regret the things we didn't buy? Or the places we didn't go?" he says, walking off on to a sunlit beach.
18:45
Hannah Waddingham plays a high roller
For Japanese online retailer Rakuten, Ted Lasso's Hannah Waddingham (along with a hairless cat sidekick) plays a high stakes roller matched bet for bet by an ordinary online shopper.
18:44
Will Smith's – what if The Fresh Prince but a drama series, Bel-Air – airs today on NBC's streamer Peacock (and tomorrow in the UK) and so there's a ton of promo during the game, including an ad explained here by an excitable Will:
You can also read an interview with the star Jabari Banks:
Updated

18:40
Zendaya's Sally sells seashells for Squarespace
As told (with precise pronunciation) by André 3000, Zendaya's Sally once sold a few seashells by the sea shore – until she opened a website on Squarespace, which turned her into a seashell celebrity with all the glam (and outfit changes) worthy of the Euphoria star.
18:30
Jurassic World: Dominion
After the success of last month's Scream, the legacy sequel – aka the one that brings back the old to mingle with the new – continues with force this year with our first real look at the inevitable greatest hits sequel Jurassic World: Dominion. The last film brought back BD Wong and a cameo-ing Jeff Goldblum to join Chris Pratt and Bryce Dallas Howard but this time they return with both Sam Neill and Laura Dern, an exciting prospect for hardcore fans. The trailer has some promising moments but there's an awful lot here to be juggled – despite the familiar faces, it'll be the lesser-known DeWanda Wise who leads – so whether all balls can be kept up in the air remains to be seen.
18:30
Kanye's McDonald's order
It's been a chaotic weekend for Kanye West, whose rather alarming Instagram posts have been causing concern as well as ridicule. But the rapper and entrepreneur has also cropped up briefly in an ad for McDonald's, a surprise cameo that might be a way of announcing a new Kanye meal, following in the footsteps of Travis Scott who pocketed $20m for his. More to come, uhhhhhhhh maybe.
Updated

18:22
The Lost City
A quick look at Sandra Bullock and Channing Tatum's The Lost City, a knowing spin on Romancing the Stone, doesn't really offer us much we haven't already seen in the initial trailers. The story of a romance novelist who finds herself in a real adventure has plenty going for it – Bullock returning to physical comedy, Daniel Radcliffe as a bad guy, a role for the extremely funny Patti Harrison, a piss-taking cameo from Brad Pitt – but three trailers have now shown essentially the same moments on a loop (someone over at Paramount is very proud of the line "What is this, Taken? Am I took-en?") so let us hope there's more to be found when it hits cinemas next month.
18:21
Doctor Strange and the Multiverse of Madness
And early out of the gate comes one of the night's biggest trailer reveals. The phenomenal success of the most recent Spider-Man instalment (about to take over Avatar's mammoth box office) and the film's many, many cameos has upped the ante for the next Marvel adventure, something the new tease of Sam Raimi's Doctor Strange 2 is certainly aware of. While we knew from the last trailer that Wanda would be a major part, the new teaser has confirmed a rumour that Patrick Stewart would be starring as well. Is he playing Professor Xavier though? Is it about to be an X-Men mash-up? We'll find out for sure in May.
Updated

18:13
Try it yourself if you can!
18:06
Jason Bateman gives the history of evolution
Jason Bateman surveys the history of human evolution, from the invention of our first words (aka caveman grunts) to the first maps, phones and TV screens, all leading up to Hyundai's first electric car, the Ioniq 5.
18:04
While Super Bowl viewership has fallen in recent years, along with pretty much every other live event, we're still talking a considerable, not-to-be-sniffed at audience. Last year 92m viewers still tuned in and so advertisers remain more than happy to spend the most for an ad. This year's rate has gone up from $6.5m for 30 seconds to $7m. Experts have called this year's theme amusing and warm, a string of gentle ads that will not be going too deep. Phew.
17:58
Celebrities tend to descend upon the Super Bowl wherever it's being played but this year the LA setting should mean that even more will appear. We'll add pics when they crop up but here's a quick look at who has been spotted so far:
17:53
This blog is firmly not about sports, but the Super Bowl half-time show, as the most watched concert of the year, is inextricable from the NFL's abundant issues with race and gender and its tendency to favor performative gestures (hashtags for racial justice on the field) over substantive change (hiring any black coaches – there is only one, in a league of 32 teams).
This year's line-up features some of the biggest Black artists in the US – Dr Dre, Kendrick Lamar, Snoop Dogg and Mary J Blige. It's a far cry from five years ago, when high-profile artists such as Rihanna, Adele and Cardi B reportedly declined offers to perform out of frustration with the league's handling of Colin Kaepernick's protests for racial justice. And it's in large part thanks to Jay Z, who entered into a public partnership with the league in 2019 that gave his company, Roc Nation, influence over the league's social justice initiatives and music events.
The league's racial issues are arguably as bad as ever – for more on that, read my colleague Andrew Lawrence's piece on the optics of this year's halftime show. The line-up is "too big to fail", he writes, but "like the league's efforts to address its race and gender problems, this too appears to be a no-win proposition".
17:53
Averting our eyes from the ball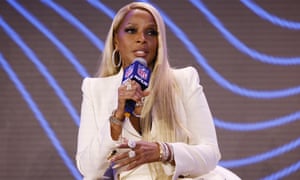 It's here! That one team playing that other team to win that whatever for something, I don't know. What matters here is what is happening off the pitch or whatever it's called, a place to avoid all the sport and focus on the other festivities.
Tonight, as ever, there will be a host of celebrity-packed trailers and first looks at major movies and, most importantly, a much-anticipated half-time performance from a hip-hop and R&B supergroup: Kendrick Lamar, Mary J Blige, Eminem, Dr Dre and Snoop Dogg.
So for the next few hours, this will be a football-free zone. It is football they are playing tonight, right?